Communication from the Holy See
about the not recognized Chivalric Orders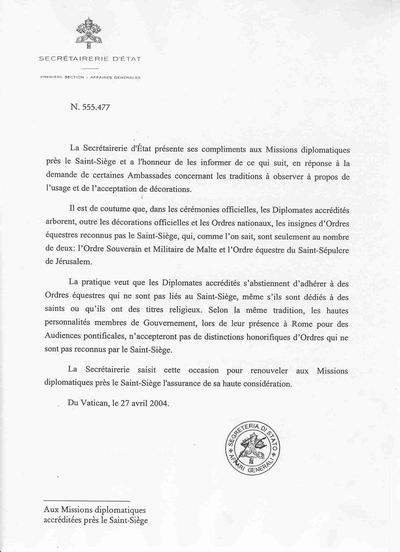 Coat of Arms of the Holy See
SECRETERIAT OF STATE
First Division – General Affairs
No. 555.477
The Secretariat of State presents its compliments to the Diplomatic Missions to the Holy See and has the honour to inform them of the following, in response to the request of certain Embassies about the traditions to be observed with respect to the usage and to the recognition of decorations.
It is customary that, during official ceremonies, accredited Diplomats display, besides official decorations and national Orders, the insignia of the equestrian Orders recognized by the Holy See, which, as is well known, number only two: the Sovereign and Military Order of Malta and the Equestrian Order of the Holy Sepulchre of Jerusalem.
Usage requires that accredited Diplomats refrain from joining equestrian Orders that are not connected to the Holy See, even though they be dedicated to saints or have religious titles. Pursuant to the same tradition, holders of high office in Government, while in Rome for pontifical Audiences, should not accept honorific distinctions of Orders that are not recognized by the Holy See.
The Secretariat takes this opportunity to renew to the Diplomatic Missions to the Holy See the assurance of its high consideration.
From the Vatican, April 27th, 2004.
(Stamp of the Secretariat of State - General Affairs
)
(Initialled by GC within stamp)
To the Diplomatic Missions accredited to the Holy See